Buy a Button for just $5...proceeds support Rochesterfest and it's family-friendly events. Plus you can enjoy the following deals during the week of Rochesterfest (June 17-25):
*Buck off a beer during Happy Hour at Rochesterfest (Mon-Fri 4:00-5:30)
*Free swimming at Soldiers Field Pool
*Free hot fudge sundae or Bunny's coconut cake with entrée at Canadian Honker
*Free book (up to $3) in Friends' Book Store each day of Rochesterfest
*Free park entry at Chester Woods Park on June 19
*Free pop or coffee with food order at Charlie's Eatery & Pub (Mon-Fri til 5pm)
*Free pop or coffee with food order anytime during the week at Eastwood and Soldiers Field Golf Courses
*Free haircut at Nova Academy of Cosmetology
*$5 off purchase of $25.00 at Games by James
*$5 off one Bingo session at Rochester Elks Club #1091 on Tuesday, Thursday, Friday or Sunday during week of Rochesterfest
*$3 off admission to Rochester Honkers games: June 17, 19, 20, 23, 25
*$2 off any rental Silver Lake Boat & Bike Rentals
*$2 off child admission to kidDISCO event at Rochester Art Center on June 22nd
*$2 off FootGolf at Willow Creek Golf Course
*$1 off to play BubbleBall at Rochesterfest
*$1 off Laser Tag at Bowlocity Entertainment Center
*$1 off food (one-time use) at Rochester Hangar Dance on June 17
*125 Live Guest Pass- during Rochesterfest, anyone with a button can stop into 125 Live and pick up a one-day pass that can be used anytime through the end of July.
*Buy a game, get one free at Colonial Lanes, Mon-Fri (shoe rental extra)
Here's where you can buy your Rochesterfest Buttons:
All Rochester and Byron area KWIK TRIP locations (14)
All four Rochester HY-VEE FOOD STORES (4)
HOME FEDERAL (1016 Civic Center Dr NW location)
CANADIAN HONKER
CENTERSTONE PLAZA HOTEL
CHARLIE'S EATERY & PUB
COLONIAL LANES
CUB FOODS
EAGLE STORE
GREAT HARVEST
HUNT DRUG
OPTICAL VISION w/FLAIR
PANNEKOEKEN
PEOPLE'S FOOD COOP
ROSCOE'S
SILVER LAKE FOODS
TRADE MART FURNITURE CENTER
VIRGIL'S
WRIGHT'S SMALL ENGINE REPAIR
ROCHESTER CITY HALL
*ROCHESTERFEST INFORMATION BOOTH DURING FEST
…and from various non-profit groups and organizations

Mayor Ardell Brede buys the first 'official' Rochesterfest Button from Button Chair Kristine Ihrke.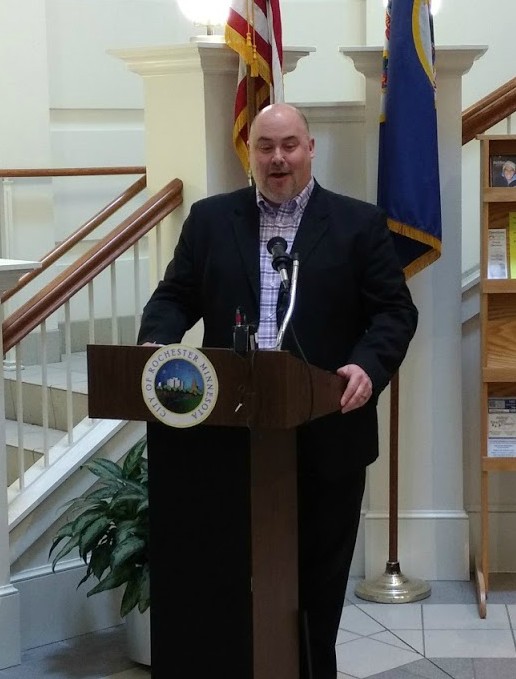 This year's winning button designer Wes Duellman.
Button Sponsor: HOME FEDERAL SAVINGS BANK