Treasure Hunt Clues
UPDATE: June, 2014
2014 Treasure Hunt sponsored by:

The 2014 Rochesterfest Treasure HAS BEEN FOUND! Below are details regarding the elements of each clue.
---
Our lucky finders are Jeff and Hiedi Treitline of Rochester, who discovered the Treasure in Glendale Hills Park on Northern Valley Drive NE, under the rocks piled near the park sign. They will exchange the medallion for $500 cash, courtesy of our sponsor Trade Mart Furniture Center!

Thanks for playing along!
Revisit this page for updates and visit our Facebook page for more Treasure Hunt fun!
---
CLUE #2 – TUESDAY, JUNE 24, 2014
I'm a leisurely stroll (generally close to the sidewalk) up the river solidly droll (a coy reference to Rocky Creek). The courts and the lanes and chalets (roadways and homes).
Thinking west of yon parkway (Parkway Drive NW) will send you the dark way (go east). I'm so close to the neighbor's dismay (Glendale Hills Park is secluded and small, so closer to homes than most parks).
Want some cash for your pocket? Then you'll just have to rock it (hidden under the big rocks)! You're seeking the grotto and piling (two piled, smaller rocks hid the treasure).
Move a rock (visible, but a rock could be moved to see the Treasure better). Give me air. A Shylock of your hair (meant to set up the next element using Shakespeare's "Merchant of Venice" as a physical reference to Venice Lane and then east)? That good latitude (at approximately the same latitude to Venice Lane is Northern Heights Park and Glendale Hills Park) keeps the kids smiling (kids play in Glendale Hills Park).
CLUE #1 – MONDAY, JUNE 23, 2014
Do the bard, do the brass! Hit a ball in short grass! Twenty-fourteen is Your Destination! (all of the first line's elements simply mention Rochesterfest events, from start to end – Bard indicates the first event and brass indicates the final event.)
Twixt the Jewel and the Ag (between Emerald Hills Park and Silver Lake, where Ag is the elemental symbol for silver) there's a place I can tag as my spot for your search consternation.
Where the trees have amassed (Northern Heights Park is full of trees) and the echo of past is not louder than current aspiring (the term echo is used in other city streets and areas).
I reside with both names (both Glen and Dale are part of the park name) and if finding's your game keep searching for your heart's desiring.
TRADE MART BONUS CLUE
In my view, line and sky (part of the NW city skyline is visible from Glendale Hills Park) where the dwellers go by. Get me near rocks or field stones (the large rocks in the park).
Though control (the speed tables on Northern Valley Drive NE) gives me sight you can't stay here all night. Reflection can also be cones (the traffic control indicators are reflective posts, but could also be traffic cones).
Supreme is your work if released where I lurk. Without you how empty my world. (This element takes some knowledge of music history – Diana Ross and the Supremes released the single "My World is Empty Without You" in December, 1965, and the address on the Glendale Hills Park sign is "1265")
Sometimes you may tally more than one little valley (glen and dale are synonyms for a small valley). My hiding place cannot be curled (under large rocks which obviously are quite solid).
---
Special thanks to Trade Mart Furniture Center, 3050 7th Street NW Rochester, MN, for sponsoring the 2014 Rochesterfest Treasure Hunt. Please visit the Trade Mart website for their store hours at http://www.trademartfurniturecenter.com/HomePage.aspx.
One BONUS CLUE is available at Trade Mart Furniture Center on the first Monday of the Fest, at store opening, 10:00 a.m.
FOLLOW THE RULES AS WELL AS THE CLUES.
Each year's treasure is a gold medallion, hidden somewhere in the city of Rochester, on public property (but not on a golf course or cemetery, and NEVER on private property that might appear open to the public. It's in plain sight, evident once found, and accessible to all. Once found, it must be exchanged for its bounty.
Search, but please don't destroy the natural beauty of Rochester or the Treasure hiding place! Each day's clue will bring you closer to the treasure's location.
All text and clues copyright ©2014 Rochesterfest and may be used in broadcast and print. All online rights are exclusive to Rochesterfest, go ahead and link to this page! Online clues will be found only at www.rochesterfest.com (unless express permission granted.)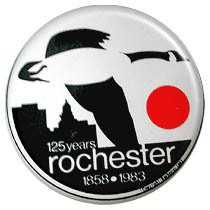 Explore the complete history of the Rochesterfest Treasure Hunt! Good hunting!
This is what you seek: