2018 TREASURE HUNT
The 2018 Treasure Hunt is sponsored by Whistle Binkies Pubs, and by our wonderful media sponsor ABC 6 News-KAAL TV. For 2018, we welcome Hiller's Flooring America! Please thank them for their continued support of Rochesterfest!
Revisit this page for updates and visit our Facebook page for more Treasure Hunt fun!
---
The 2018 Rochesterfest Treasure has been FOUND!
At approximately 7:45 a.m. on Tuesday, June 19, after six clues were released, Matt Vetting and his son found the 2018 Treasure at Allendale Park in northwest Rochester.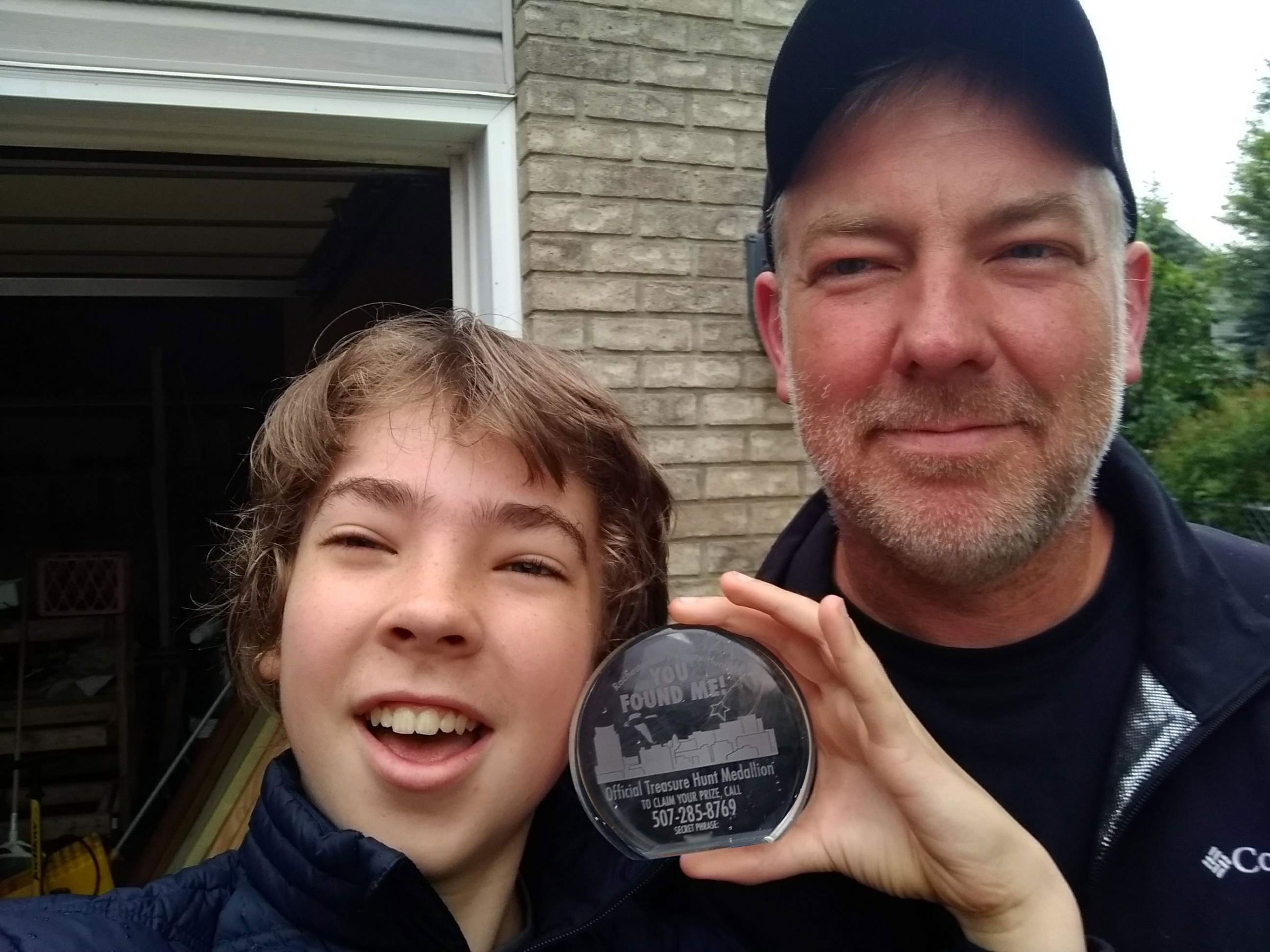 "My son and I found the medallion at 7:45 this morning in Allendale park under a bush after searching the park for 10 to 15 minutes. We were led to this park by searching coat of arms and the names of rochester parks in the northeast quadrant of rochester. The allendale coat of arms is a lion and eight crescent moons. Looked under bush which has four letters. Allendale is a compound of two names allen and dale."
The Vettings will claim their $1,000 prize later this week during Rochesterfest's Noontime events.
Clue #4 - Tuesday, June 19
The octet of the crescents and lion do coat.
The name of the forest and fourth now promote.
His title is same and his peerage renowned.
A winner you'll be even down for viscount.
(Okay, this one is a bit indulgent, but it points to the Viscount Allendale, a title in the peerage of the United Kingdom. The coat of arms features a lion and eight crescents, although Rochester's Crescent Park is also just south of Allendale Park. The "fourth" and current Viscount Allendale is now Wentworth Beaumonth IV. According to the 2018 finder, Matthew Vetting, this clue helped confirm their suspicion that the Treasure was hidden somewhere in Rochester's Allendale Park.)
BONUS Clue #2 - Monday, June 18 - Whistle Binkies Pubs
Where water divined is a neighbor well used.
(Alludes to the city well on 18th Avenue.)
Those hundred year cats will not be found amused.
("Cats" points to both the John Adams Jaguars, and Century HS Panthers. Since it was not at Century HS, it will not be found there.)
A grimalkin, like water, I might be accused.
(A "grimalkin" is an archaic word for cat, and like the clue "like water" it would be near the Jaguars water tower.)
Clue #3 - Monday, June 18
Numerologists four is the sum of my shroud.
(In "numerology" you can add up the numbers associated with Allendale Park to achieve "4".)
Total letters and see if you're not easily cowed.
Though the cow to porcine form a line near my locus,
(If you trace a line from the downtown Kemps plant ["It's the Cows!] through Cheap Charlie's rooftop pig, you find an area close to Allendale Park in northwest Rochester.)
Continue on through so you won't lose your focus.
Clue #2 - Sunday, June 17
The sun may not rise but will shadow my space.
(As the sun rises in the east, the Treasure spot is shaded by trees, and is on the west side of town.)
The note and the flick tease the side of my face.
(Alludes to scheduled Rochesterfest events, "Concert in the Park" by the Rochester Community Band, and the "Movies in the Park," both in Central Park on the west "side" of town.)
Where two join as one, onomastics prevail.
(Onomastics is the study of proper names, and Allendale is the joining of two proper names. There are also churches just south of the park.)
Are you closer to guessing the point of this tale?
("Tale" infers its homophone "tail" and John Adams Middle School's mascot is a jaguar.)
BONUS Clue #1 - Saturday, June 16 - Hiller's Flooring America
In verdurous park or nature reserve.
(Allendale Park, where it was hidden, has a lot of green space.)
Through basin or hollow and you've struck a nerve.
(Elton Hills Run Park is nearby, and features a stream in a valley, or "hollow" that points to near the hiding spot.)
Look for me closely with passion and verve.
Clue #1 - Saturday, June 16
A Super Celebration and two of the three
dozens, I've served up this fine mystery.
(2018 is Rochester's Super Celebration, and for two-thirds of the entire 36-year history of the Fest, the Treasure Hunt has been a feature.)
Where a city may learn or inculcate the lesson.
(The Treasure was hidden near a city school.)
My hiding place open but keepin' you guessin'.
("Open" means on city property.)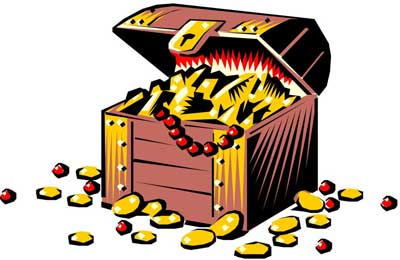 ---
Special thanks to Whistle Binkies Pubs (North and South), Hiller's Flooring America, and ABC 6 News for sponsoring the 2018 Rochesterfest Treasure Hunt. Please visit the Hiller's Flooring America website www.HillerCarpet.com for Saturday hours, and the Whistle Binkies Pubs website www.WhistleBinkiesPub.com for their Monday hours. Watch ABC 6 News Good Morning for daily clues at approximately 6:00 a.m.-6:15 a.m. All clues will appear here, on this page, each day at approximately 7:00 a.m.
One BONUS CLUE will be available Saturday, June 16th at Hiller's Flooring America at 9:00 a.m. at opening, and one additional BONUS CLUE will be available at BOTH Whistle Binkies Pubs on Monday, June 18th at pub opening (11:00 a.m.)
FOLLOW THE RULES AS WELL AS THE CLUES.
This year's treasure is a special acrylic medallion, hidden somewhere in the city of Rochester and on public property (but not on a golf course or cemetery) and NEVER on private property that might appear open to the public. You will absolutely know if you find it! Once found, it must be exchanged for its bounty.
Search, but please don't destroy the natural beauty of Rochester or the Treasure hiding place! Each day's clue will bring you closer to the treasure's location, and it will be evident once found!
All text and clues copyright ©2018 Rochesterfest and may be used in broadcast and print. All online rights are exclusive to Rochesterfest, go ahead and link to this page! Online clues will be found only at www.rochesterfest.com (unless express permission granted.)
Where, oh where would a Treasure hide? We have a pretty good idea where it has been hidden in past years, but where will is surface in 2018? We've also found some terrific motivation from other area Treasure Hunts. Want to see what we see? Visit the Pioneer Press Treasure Hunt or Red Wing's Medallion Hunt during River City Days to see if it helps. (Probably not.)
Below is an image of what you seek, courtesy of ABC 6 News.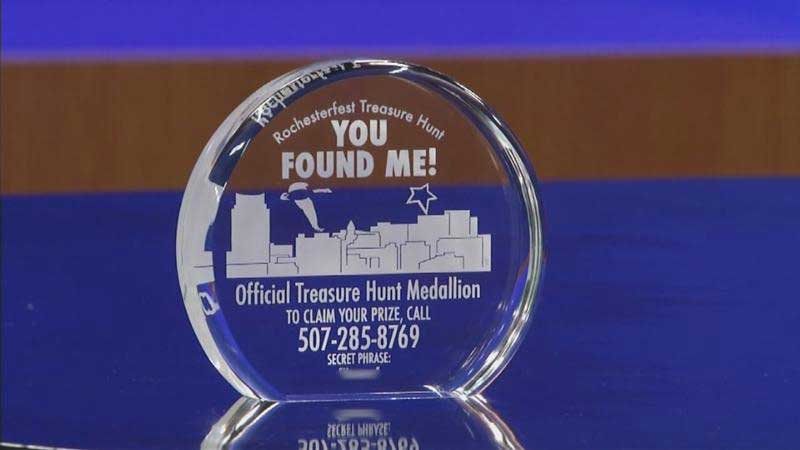 ---
Explore the complete history of the Rochesterfest Treasure Hunt! Good hunting!