2019 TREASURE HUNT
THE TREASURE HAS BEEN FOUND!!! Congratulations to Josephine Van Ert and her brother Rhys. They found the Rochesterfest Medallion hidden under a tree at Northern Heights Park, near Churchill School in Northeast Rochester. They will be given their $1000 check at Rochesterfest on Friday at 11:15am.
The 2019 Treasure Hunt is sponsored by Whistle Binkies Pubs, Hiller's Flooring America and official Hunt media partner ABC 6 News-KAAL TV.
Please thank them for their continued support of Rochesterfest!
Revisit this page for updates and visit our Facebook page for more Treasure Hunt fun!
---
Treasure Hunt Clues Explained
Bonus Clue #2 at Whistle Binkies Pubs - Monday, June 24
What wizardy, this, can contain my grand bliss? (A Magical Time - $1,000 prize)
Battle Green antecedent to victory his. (The first shot of the Revolutionary War against the British happened at the place called Battle Green, and preceded victory in WWII where Winston Churchill played a major role)
Now move forward two Bens, take back thirty-ish. (1775 was the Shot Heard 'Round the World at Lexington/Battle Green with the British, and adding two hundred years, minus 30 years, results in 1945, the end of WWII and Churchill's involvement)
Clue #3 - Monday, June 24
A grand you'll be richer by wearin' your slicker. (Rain for Rochesterfest?)
This sporting crusade obviates the convector. (The hockey rink has a warming house that uses a heating system)
But never right now as the state is not denser. (No hockey in summer, the state of matter - water - is much less dense)
Touche if you know it and follow the fencer. (Around the ball field is a fence near the location)
Clue #2 - Sunday, June 23
If you're venturing out bring a big bumbershoot. (A British term for umbrella, and a necessary item for rainy days)
If you stave nigh-on by me the game is afoot. (A stave is a curved stick - hockey - and the game of hockey is played here)
At times the pitch hearkens and sounds with a bow. (Baseball "pitch")
Not ensign but jack is the union not low. (Two different flags, with the Union Jack or Flag flown from British ships)
Bonus Clue #1 at Hiller's Flooring America - Saturday, June 22
Where, oh where could I decide to hoyde? (Hoyde is Norwegian for height or hill)
Wed the bride, saints abide. Only half of my pride. (A church - half of the name Churchill)
I'm less in the middle but more of the side. (Hidden toward the side of the field)
Clue #1 - Saturday, June 22
The Fest so sublime. What a magical time!
The seekers endeavor through thicket and cyme. (Well, you really do, don't you?) ;-)
My prominence glowing near arboreal growing. (Hidden under a tree)
The silver is showing as you think you are knowing. (25th year is silver, so just a little play on Rochester landmarks, although Silver Lake isn't far and below Northern Heights)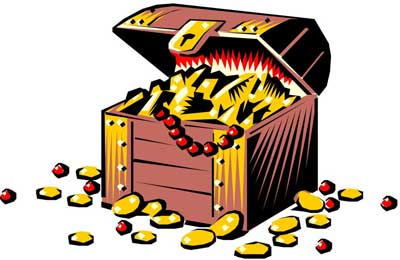 ---
Special thanks to Whistle Binkies Pubs (North and South), Hiller's Flooring America, and ABC 6 News for sponsoring the 2019 Rochesterfest Treasure Hunt. Please visit the Hiller's Flooring America website www.HillerCarpet.com for Saturday hours, and the Whistle Binkies Pubs website www.WhistleBinkiesPub.com for their Monday hours. Watch ABC 6 News Good Morning for daily clues at approximately 6:40 a.m.-6:50 a.m. All clues will appear here, on this page, each day at approximately 7:00 a.m.
One BONUS CLUE will be available Saturday at Hiller's Flooring America at store opening, and one additional BONUS CLUE will be available at BOTH Whistle Binkies Pubs on Monday at pub opening.
FOLLOW THE RULES AS WELL AS THE CLUES.
This year's treasure is a special acrylic medallion, hidden somewhere in the city of Rochester and on public property (but not on a golf course or cemetery) and NEVER on private property that might appear open to the public. It will not be hidden on public land that would be dangerous to search (roadways, etc.) You will absolutely know if you find it! Once found, it must be exchanged for its bounty.
Search, but please don't destroy the natural beauty of Rochester or the Treasure hiding place! Each day's clue will bring you closer to the treasure's location, and it will be evident once found!
All text and clues copyright ©2019 Rochesterfest and may be used in broadcast and print. All online rights are exclusive to Rochesterfest, go ahead and link to this page! Online clues will be found only at www.rochesterfest.com (unless express permission granted.)
Where, oh where would a Treasure hide? We have a pretty good idea where it has been hidden in past years, but where will is surface in 2019? We've also found some terrific motivation from other area Treasure Hunts. Want to see what we see? Visit the Pioneer Press Treasure Hunt or Red Wing's Medallion Hunt during River City Days to see if it helps. (Probably not.)
Below is an image of what you seek, courtesy of ABC 6 News.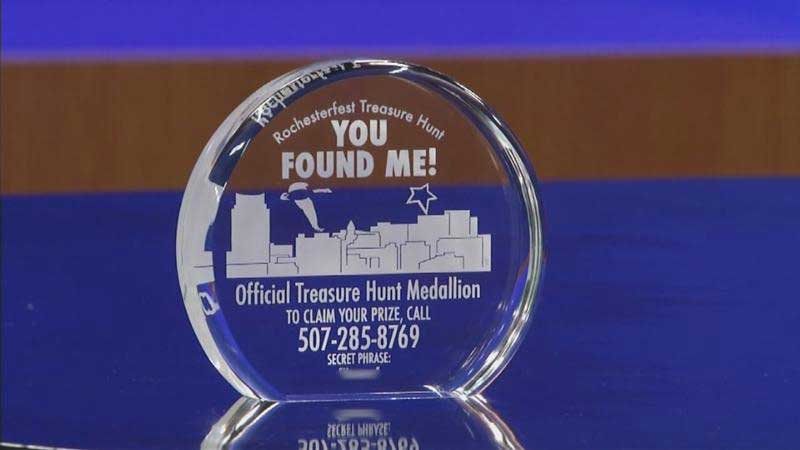 ---
Explore the complete history of the Rochesterfest Treasure Hunt! Good hunting!